When the Pilots moved to Milwaukee in 1970, a set of promotional trading cards were distributed throughout the state of Wisconsin. The slogan on the back read, "Milk for lots of protein, it's the Flavor-est." Supposedly, Flavor-est was the name of the dairy that distributed them. I can't confirm that, but labeled this the "Flavor-est Gallery" anyway. Although I shy away from Brewers memorabilia, I thought this set would be of interest, because this is the nucleus of the team that would have left 1970 spring training for Seattle.
Thanks to Steve Bowles for his help in assembling this section!
1970 Flavor-est set | 1969 Topps set | 1970 Topps set | Trading Card Annex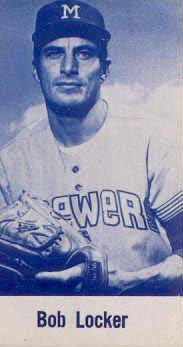 As you can see in this card, the 1970 Brewers uniforms retained the piping on the sleeves and the same lettering style as on the Pilots' road jerseys.

Gene Brabender
Dave Bristol *
Wayne Comer
Cal Ermer *
Greg Goossen
Tommy Harper
Mike Hegan
Mike Hershberger *
Steve Hovley
John Kennedy
Lew Krausse *
Ted Kubiak *
Roy McMillan *
Bob Meyer
Jerry McNertney
Johnny Morris
John O'Donoghue
Marty Pattin
Rich Rollins
Phil Roof *
Ted Savage *
Russ Snyder *
Danny Walton

* = Was not with the Pilots during the 1969 regular season.
---
[home]