Photos for the 1970 Topps Pilots cards were taken in five locations: at Yankee Stadium—with the players wearing their road uniforms; at Pilots Field in Tempe, Arizona—featuring some players in their home uniforms and some in their spring training uniforms (I suspect that the latter were actually taken at 1969 spring training); the team card, taken at Sick's Stadium and a handful that were taken at their previous team's home field.
Thanks to Charles Kapner for his help in assembling this section!
1970 Topps set | 1969 Topps set | Trading Card Annex | 1970 Flavor-est set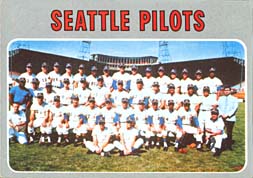 The Pilots team photo card (713)—the rarest of the Pilots cards.
Dave Baldwin
Steve Barber
Bobby Bolin
Gene Brabender
Dave Bristol
Don Bryant
Wayne Comer
John Donaldson
John Gelnar
Greg Goossen
Tommy Harper
Mike Hegan
Mike Hershberger
Steve Hovley
John Kennedy
Ted Kubiak
Bob Locker
Skip Lockwood
Jerry McNertney
Bob Meyer
Don Mincher
John O'Donoghue
Marty Pattin
Phil Roof
Rich Rollins
Rookies: Dick Baney/Miguel Fuentes
Diego Segui
Buzz Stephen
Danny Walton
The background of this page is the same color that appeared on the back of the 1970 cards.
---
[home]