The early series of Topps' 1969 set showed Pilots players in their previous team's uniform, usually with the logo poorly airbrushed out. Photos for the later series were taken during spring training at Pilots Field in Tempe, Arizona.
Thanks to Jon Rizzi for his help in assembling this section!
1969 Topps set | 1970 Topps set | Trading Card Annex | 1970 Flavor-est set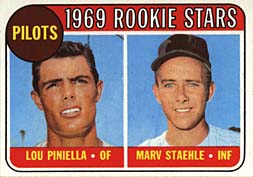 The 1969 Pilots Rookie Stars Card (#394). Everyone knows Lou Piniella never played during for the Pilots the regular season, but neither did Marv Staehle.
Jack Aker
Steve Barber
Gary Bell
Darrell Brandon
Wayne Comer
Tommy Davis
Mike Ferraro
Gus Gil
Jim Gosger
Larry Haney
Tommy Harper
Mike Hegan
John Kennedy
Mike Marshall
Jerry McNertney
Don Mincher
Johnny Morris
Ray Oyler
Marty Pattin
Rich Rollins
Chico Salmon
Joe Schultz
Diego Segui
Roland Sheldon
Jose Vidal
The background of this page is the same color that appeared on the back of the 1969 cards.
---