WHY DID THE PILOTS LAST ONLY ONE SEASON?
Low attendance is the reason heard most often. A total of 677,944 fans turned up to watch the Pilots play in Sick's Stadium, an enlarged minor league field. That's a small number by today's standards, but it was more than the White Sox, Indians, Phillies or Padres brought out to the ballpark that season. The Padres didn't draw more fans than the Pilots until 1974—and after only two years in Milwaukee, the Brewers' attendance had slipped to well below what it had been in Seattle.

Another reason offered for the Pilots' hasty flight is that they were losing millions of dollars—which was true, although nearly all of it was on paper. Discounting the depreciation of player contracts, amortization and interest, the Pilots actual loss was slightly over $250,000.

In truth, the reason for the Pilots' short history is a good deal more complicated than either of the above reasons.

Brothers Dewey and Max Soriano were awarded an American League franchise at baseball's 1967 winter meetings in Mexico City—on the condition that King County would build a domed stadium within three years. In 1968, after a round of public appearances by American League president Joe Cronin and A.L. stars Mickey Mantle, Jimmy Piersall and Carl Yastrzemski, voters approved the construction.

"I was happy as heck," said Dewey Soriano. "You don't sleep very much, I'll tell you that, because you want to get going and you want to get players that can really help your club."

The Sorianos seemed like perfect candidates to run a team. Dewey Soriano had over 20 years experience in baseball, as a pitcher and general manager for the Seattle Rainiers and Yakima Bears and as president of the Pacific Coast League. Max Soriano had pitched for the University of Washington Huskies and, during his brother's presidency, was the P.C.L.'s legal counsel. What the Sorianos didn't have was money. For that, they turned to William R. Daley, a former owner of the Cleveland Indians.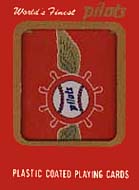 Pilots playing cards. 1969 price=$2, 1999 price=$40

Dewey Soriano met Daley in 1965, when Daley was considering moving the Indians to Seattle. Cleveland officials eventually made it worth his while to stay in Ohio, but Daley never forgot about Seattle. The image we have of the free-spending baseball owner didn't fit Daley. When financial projections a couple of months into the 1969 season showed that, not only weren't the Pilots turning a profit, but that Daley would likely have to invest more to keep them afloat, he cooled on Seattle.

"Sure, he had the money to do so," said Max Soriano, "but I don't think he was a careless person with his dollars. I think he looked at it as the odds being too much against it being a viable franchise until a new stadium was built and he didn't know how long that was going to be."

In early September, an angry Daley told Seattle fans that they'd have one more year to prove themselves or lose the team. It's been speculated that Daley was in poor health and didn't have the stamina to deal with a difficult problem like the Pilots. That's probably not true, although he was 77 at the time and died two years later after a lengthy illness. Whatever his reasons, Daley chose not to put more money into the team and the Sorianos were unable to.

Daley's threat backfired because attendance plummeted. At the same time, tensions heated up between team officials and local politicians, creditors started to get itchy about the money they were owed by Pilots management and lawsuits delayed construction of the domed stadium.

Local theater chain owner Fred Danz agreed to buy the team from Daley and the Sorianos and the sale was approved by the baseball establishment, but at Christmas, Danz got a reverse present from the Bank of California. They demanded immediate payment in full on the $4 million they had loaned the Pilots for start-up costs. Danz couldn't come up with that money in addition to the $10 million he'd already raised, so the sale was nullified.

Westin Hotels president Eddie Carlson put together a non-profit corporation to buy the team, but American League owners voted against accepting his offer. After pressure from Washington's powerful U.S. senators, Warren Magnuson and Henry Jackson, the A.L. reconsidered, but by that time, Carlson's group had disbanded and there was not enough time for him to bring it back together.
---