Success in the entertainment business is often the result of hard work by someone behind the scenes. In the case of radio, that person is often the producer of a broadcast. Frank Greif produced the Pilots' radio broadcasts from the first day until the last, working closely with broadcasters Jimmy Dudley and Bill Schonely and even stepping behind the microphone himself on occasion. I spoke with him in November of 2003.

How did you get involved with the Pilots?
I was already at KVI, which had been broadcasting Pacific Coast League baseball since 1965. Walt Brown and Bill Schonely did recreations of Rainiers games—you know, cardboard cigar box and a pencil for snap of the bat. I did news and sports, all production work and engineering. It was a natural progression when Golden West Broadcasting got the rights to Pilots games. Walt left and they brought in Jimmy Dudley.

I imagine that you were excited.
It was major league baseball! I was a young guy and this meant going to spring training and traveling with the team. I went to Arizona and spent all of March there. (laughs) It was a terrible duty: one game during the week and then games on Saturday and Sunday. I spent rest of week just watching baseball and getting to know the team.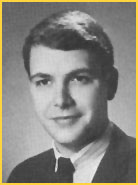 Frank Greif's Pilots publicity photo

Do you have any stories about the players?
Two things come to mind. Baseball players in those days weren't particularly well-educated; they were all right out of high school or minors. But the Pilots had Steve Hovley in their midst. He was a Stanford grad and spouted the classics. He also played harmonica. There's nothing more painful than losing ten in a row and I remember Hovley sat in back of bus, playing mournful tunes on the harmonica when Joe Schultz came back and yelled at him to shut the damned thing up!

I also remember Wayne Comer running after foul ball, but he didn't look where he was going and ran into a cyclone fence at full speed. It just sucked him in and spat him out. Also about Comer: you know, chewing tobacco is not as easy as you think. One time, he was standing at home and Jimmy Dudley ask him a question. Comer inhaled and swallowed the chew and Bazooka bubblegum he had in his mouth. He turned around, threw up and finished interview.

Was the condition of Sick's Stadium really as bad as people have said?
I know that after the first home game, against the White Sox, the players couldn't take showers because there was not enough water pressure. The showers didn't even have rubber mats. The toilets in the press box functioned but the most stunning thing was going around the country and seeing lavish spreads of food in the locker rooms. They were real places of comfort. Gene Autry was there in Anaheim and treated the players and staff royally. I don't remember it being like that at Sick's!

What was it like to be in the broadcast booth with Jimmy and Bill?
There was a definite pecking order: Jimmy was number one, Bill number two and me number three, but we all cared a lot about the game and worked hard at it. Dudley hated the wind. It was very strange, but he found nothing more vexing. He loved to say: "spring is out, welcome to the house of thrills." As I recall, when Schonely came to Seattle, he bought the rights to Totems minor league hockey broadcasts and pitched the games to KVI and sold the time as well as doing the broadcast. He considered himself a bit of a singer and should have taken a lounge act on the road.

Describe a typical day with the Pilots broadcast team.
I'd get to the ballpark with the team and then I'd go to the broadcast booth and hook up all of the equipment—it came in a big chest. Jimmy, Bill and I would meet to do pre-game show. We'd be down on the field during batting practice and I'd be standing there with a stopwatch, timing the segments. We'd start out the show live, then I'd run tapes of the segments. After that, the game started.

How about a favorite memory of your time with the team?
The biggest and best memory was when Schonely had to leave just before a game and I did the play-by-play. I still have the aircheck! I later worked Husky football broadcasts for a while.

What was it like for you when the team moved?
It was the most bizarre damned thing. We all assumed that big money interests would step in and keep the team here. You'd have to be really dense, though, to know that things weren't what they were supposed to be…everyone was going to Milwaukee except the broadcast team. Jimmy, Bill, [KVI station manager] Jack Bankson and me were on the same flight back up to Seattle. We wondered what will we do now careerwise? It turned out the station got the Huskies and I kept working with Jimmy and Bill, doing the pre- and post-game show. Jimmy and Bill left after one year and then I teamed with Bob Robertson.

What did you do after that?
I went over to KIRO and KOMO, producing the evening news and then went to work for Mayor Charlie Royer and then into business. I now help companies improve communication in the workplace and I do presentations on relationships and personal development.

[Note from Mike: For more on what Frank Greif does today, visit his Web site, Strategic Intent.
---