Dorm Braman entered Seattle politics in 1954, when he served the first of his three terms on the city council, representing newly-annexed neighborhoods in north Seattle. In 1964, he was elected mayor.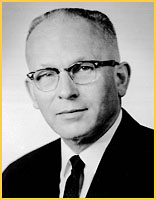 Mayor Dorm Braman

During his time in elected office, Braman worked with commissions responsible for the 1962 World's Fair, the Forward Thrust initiative and, of course, he was mayor for all of events leading up to the creation of the Seattle Pilots. Braman resigned in early 1969, when he was appointed by President Nixon to the position of Assistant Secretary of Transportation for Urban Systems and Environment, and moved to Washington D.C., where he worked to promote mass transit around the country. Dorm Braman passed away in 1980, at age 79.

City councilman Floyd Miller was named interim mayor after Braman's departure and, while Miller wasn't necessarily to blame for what followed, it's undeniable that relations between the City and the Pilots deteriorated rapidly under his watch, culminating with Miller threatening to evict the team for non-payment of their rent on Sick's Stadium. Bud Selig testified that the day he read this in the newspaper was the day he called Dewey Soriano about buying the team.

This deposition was taken at the insistence of the defendants in November 1973 and Braman was asked most notably about the City's purchase of Sick's Stadium and its subsequent renovation for the Pilots and about the near-moves of the Cleveland Indians and Kansas City Athletics to Seattle. His recall of events was good and he appeared forthcoming in his answers. The lawyers representing both sides did jump in a fair amount, with objections to each other's questions.

Deposition: Pages 1-25 | 26-50 | 51-86

Exhibits: 1 | 2 | 3 | 4 | 5 | 6 | 7 | 8 | 9 | 10

For more information about Dorm Braman, see an article by his son, Jim, at HistoryLink.org.
---